EMPACT+™ Performance Drink Mix
It puts everything you need into one drink.
ENDURANCE*
HYDRATION*
RECOVERY*
Get all you need in one drink. Whether you're lifting, cycling, running or working hard in other ways. It is the first fitness product to ever combine the major elements of fueling, hydration and recovery into a single drink.
The days of mixing three separate pre- and post-workout supplements are over.
BETTER THAN SPORTS DRINKS
EMPACT+ is a natural and great-tasting source of safe energy, free of stimulants and artificial sweeteners. If you drink anything other than water, you should be drinking EMPACT+ instead.
EMPACT+ PERFORMANCE DRINK MIX can be enjoyed any time, all day, as a safe, delicious source of energy.
Benefits
WHAT EMPACT+ DOES FOR YOU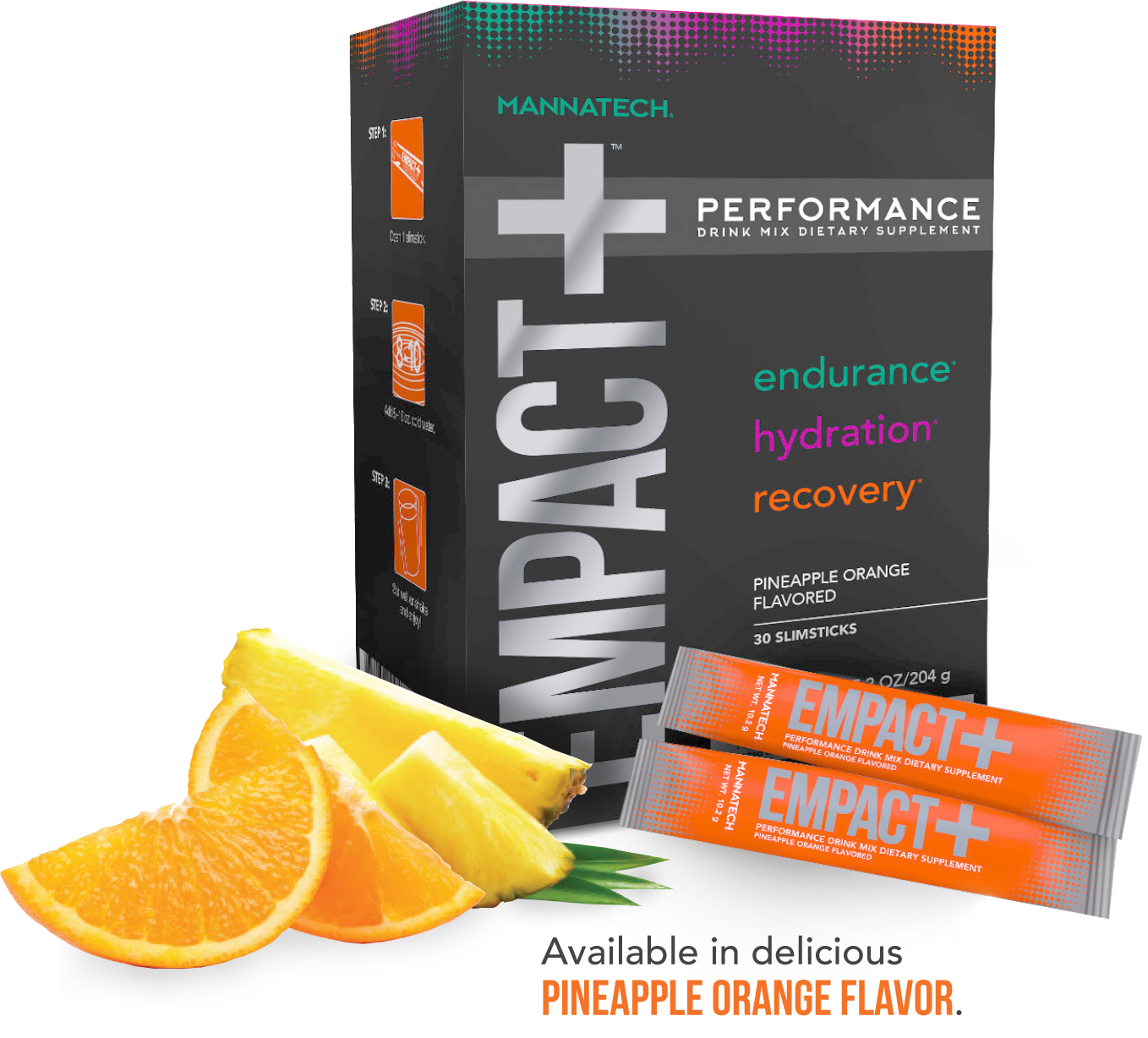 Helps the body stay hydrated during physical activity*†
Helps maintain muscle mass during exercise and weight management*‡
Helps support post-exercise muscle repair and recovery*‡
Long-term use (3-4 weeks) may aid in preserving muscle and energy levels during periods of calorie restriction*‡
Provides a wide spectrum of electrolytes
Easy to Use
Stir contents of one sachet into 500ml of cold water, and mix immediately before drinking. Drink one to three times daily.
ENERGY THAT'S GOOD FOR YOU
Empact+ replenishes electrolytes, vital nutrients and branched chain amino acids (BCAAs) that help maintain and support the development and rebuilding of muscle tissue.*‡ It is designed to provide you with a range of physical and mental enhancements that power you through your workout, all in the convenience of a single, natural fitness product.*†
EMPACT+ is a specially formulated product free from gluten, dairy, soy, sugar and genetically-modified DNA and MSG making it safe for all-day, any day use.





"I feel energised after using Empact+. It allows me that extra energy boost for training and competition. Highly recommend for daily workout".*
– Matt Levy, World Record Holder / 4 Paralympian and 2 Gold Medallist in Swimming
Enjoy the Energy!
EMPACT+ performance drink mix helps your body adapt to overcome physical and mental stress.*† It increases endurance and aids the body's ability to recover from strenuous activity, faster.*†

90 Days Risk-Free
TRY IT NOW, RISK-FREE.
If you do not feel a positive difference in your health within 90 days, we'll gladly refund your money.
Contact the person who shared this information with you today to get started!


Nourish a Child
MISSION 5 MILLION™
Take Empact+ and Nourish a Child's LIFE.
For every $100 spent on Mannatech products, a one-month supply of PhytoBlend™ powder is donated to help nourish a child in need.
† When using 1 stick in 8 oz of water, 2-3x per day.
‡ When consumed prior to and following workouts.